"This BRICK of soap smells great! ... Very refreshing & zesty. When my wife smelt it she said "WOW that smells great!" So I'm sure I'll not have this soap to myself ... Great smell! ... It lathers well, cleans your skin, oh & smells great." Russ F.
Are you ready for the most invigorating wash of your life? Step out of the shower with confidence to take on the day.
Introducing SCRUBD, the all-natural soap bar that feels amazing on your skin, leaving you clean and smelling amazing all day long. So, go ahead and put your old soap bar in the bin - it's time to upgrade to the best!
Benefits

- Cleans without stripping away natural oils
- Free from harmful chemicals and irritants
- Perfect for all skin types, including eczema
Scent

A breath of fresh citrus blended with warm, spicy notes of lemongrass, our soap block exudes vitality and crisp energy to wake up your senses.
Details

Let's face it: most soaps and body wash are complete garbage. They're full of harsh chemicals that dry out your skin, leaving you feeling itchy and scaly. And for what? A momentary sense of cleanliness that quickly wears off? No thanks!

That's why we made SCRUBD, the soap bar that's changing the game forever.

Made here in England with a 300 year old method called Triple Milled and 100% certified organic & sustainable ingredients and essential oils.

In other words, this soap is good for you AND the earth! So why not ditch those other soaps filled with chemicals and switch to SCRUBD? Your skin will thank you for it.

Size 250g
Ingredients

Sodium palmate (Organic Palm Oil), Sodium palm kernelate (Organic Palm Kernel Oil), Aqua (Water), Parfum (Fragrance), Glycerin, Illite (Yellow French Clay), Sodium chloride, Citric acid, Tocopherol (Vitamin E), Butyrospermum parkii butter (Shea Butter), d-Limonene, Citral, Geraniol

Certified organically grown ingredients
Fragrance is a blend of natural essential oils including Lemongrass and Lime
View full details
Superior Cleanse

Triple-milled for a creamy lather, so you can enjoy an amazing shower experience.

Ultra Hydration

Enriched with Shea Butter and Vitamin E to moisturise, repair and prevent ageing skin.

Bigger, Better, Bolder

Get a giant bar 2.5X the size of normal soap that can last up to 6-8 weeks.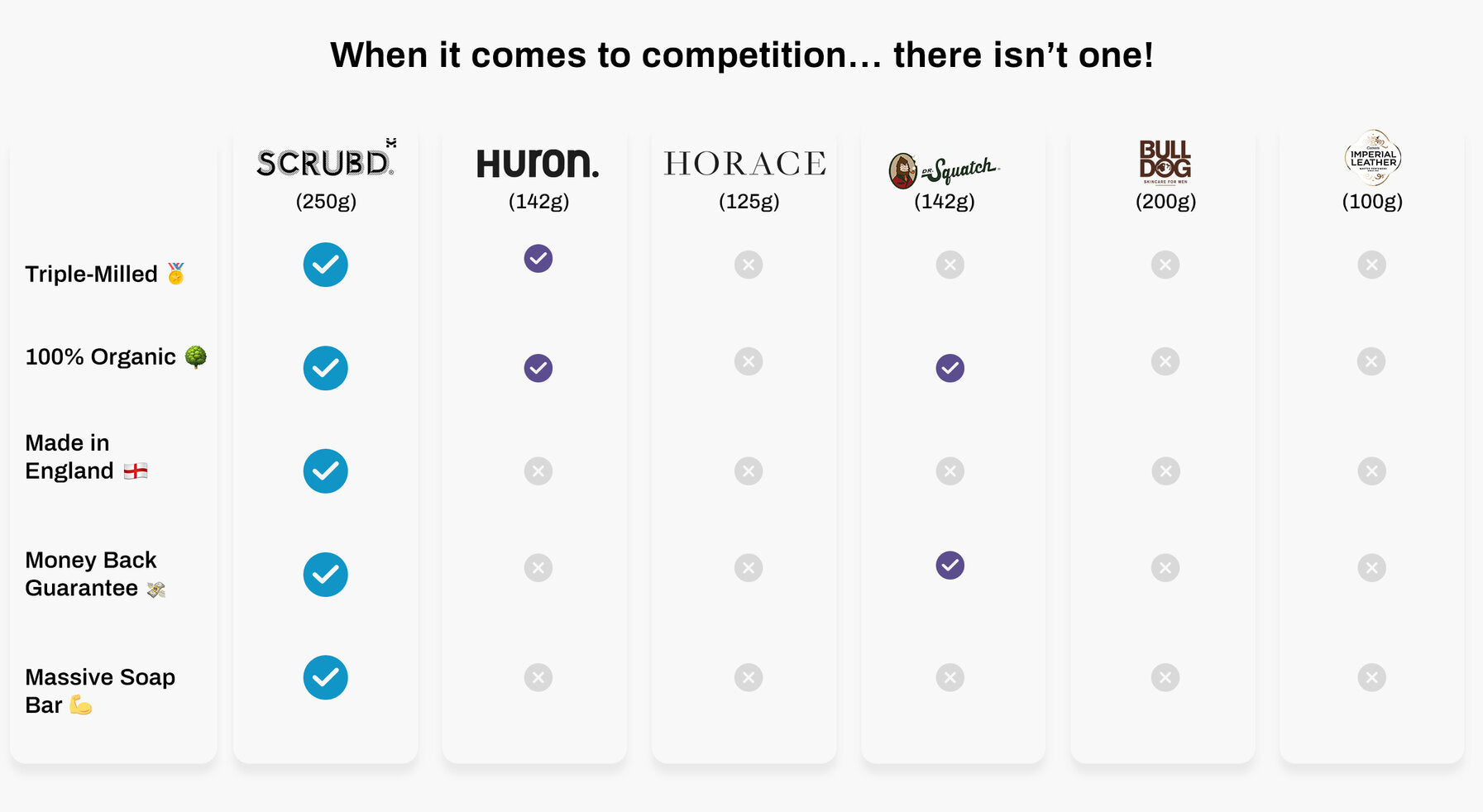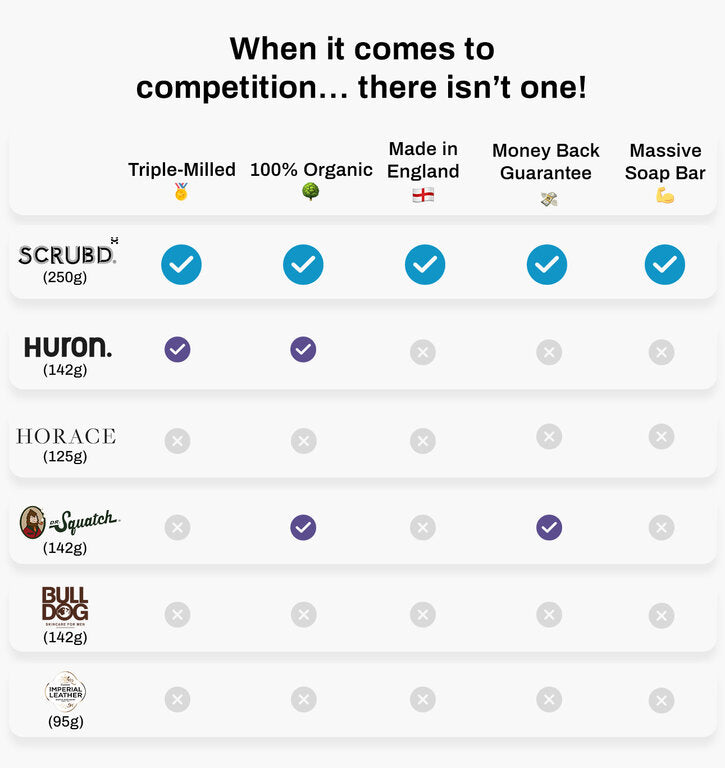 Got questions? We got answers!
How big is the bar of soap?

The bar is massive! It's 250g, which means you get more than twice the amount for your money compared to regular soap.
How long does it last?

You can expect the bar to last between 6 and 8 weeks, which is a lot of time in the shower!
What are the ingredients?

We believe in living green and going natural with our soaps. You deserve nothing less than pure goodness; we only use 100% sustainable, organic ingredients sourced here in the UK so we can keep both you and the planet clean!
What is triple-milled soap?

Triple-milled is a type of soap passed through three sets of rollers (milled), resulting in a longer-lasting bar, producing superior lather, and won't disintegrate quickly like other soaps.
Made in England

With ingredients sourced worldwide, the best of both worlds.

Natural Effective Skincare

No nasty chemicals – just 100% naturally effective skincare products.

Vegan & Eco-friendly

We believe in being kind to your skin, animals and the planet.