"The scents are absolutely off the scale, and the presentation box is lovely. The soaps are excellent, they lather up fantastic, and I feel so clean and fresh after my shower" - Gary A.
The best soap bars in the world now available in a mini size!
You can't go wrong with our brand-new Mini Soap Pack which includes all four of our signature soaps in a 110g bar size, so you can pick any scent that fits your mood.
Benefits

- Makes the perfect gift for any occasion
- Cleans without stripping away natural oils
- Free from harmful chemicals and irritants
- Perfect for all skin types, including eczema
What's Inside?

Includes all of SCRUBD's signature scents in a 110g bar size. Here are the scents:

Amber Musk & Sweet Leather: An earthy medley of woody amber notes, hints of creamy musk and rich, sweet leather.

Lemongrass & Lime: A breath of fresh citrus blended with warm, spicy notes of lemongrass.

Charcoal & Black Pepper: An incredible, all-natural scent of striking and invigorating charcoal with the spice from Black Pepper essential oils.

Cedarwood & Grapefruit: The explosive spirit of citrus notes paired with the smoky profile of cedarwood, forges a scent that embodies warmth, nature and grandeur.
Details

Let's face it: most soaps and body wash are complete garbage. They're full of harsh chemicals that dry out your skin, leaving you feeling itchy and scaly. And for what? A momentary sense of cleanliness that quickly wears off? No thanks!

That's why we made SCRUBD, the soap bar that's changing the game forever.

Made here in England with a 300 year old method called Triple Milled and 100% certified organic & sustainable ingredients and essential oils.

In other words, this soap is good for you AND the earth! So why not ditch those other soaps filled with chemicals and switch to SCRUBD? Your skin will thank you for it.
Ingredients

Shea Butter: Shea Butter, extracted from the nut of the African shea tree, has been shown to be a superb moisturiser for the skin.

Vitamin E: Wheat germ oil is a natural source of Vitamin E. It acts as an antioxidant and helps fight wrinkles.

Lemongrass: Essential oils from Indian Cymbopogon citratus give you a feeling of stimulation. Lemongrass is natural and gives your skin a feeling of refreshment.

Lime: Lime from Mexican Citrus aurantifolia makes your skin feel good. It has been used for a long time to remove dead skin and tighten pores.

Activated Charcoal: Carbonized organic matter that has been expanded to cover its surface area. The pores bind to free-roaming chemical particles and trap them, keeping them from touching the skin.

Black Pepper: Naturally high in Magnesium and antioxidants, Black Pepper essential oil from India evens out tone whilst leaving your skin feeling energised and refreshed.

Cedarwood: Cedarwood essential oil from Morocco brings a good feeling to your skin. Cedarwood has been used by man for thousands of years to relax and soothe.

Grapefruit: Grapefruit oil is rich and relaxing. It also makes you feel better when you are tired.
View full details
Superior Cleanse

Triple-milled for a creamy lather, so you can enjoy an amazing shower experience.

Ultra Hydration

Enriched with Shea Butter and Vitamin E to moisturise, repair and prevent ageing skin.

Scent For Every Mood

Give yourself the option to enjoy a different scent depending on your mood.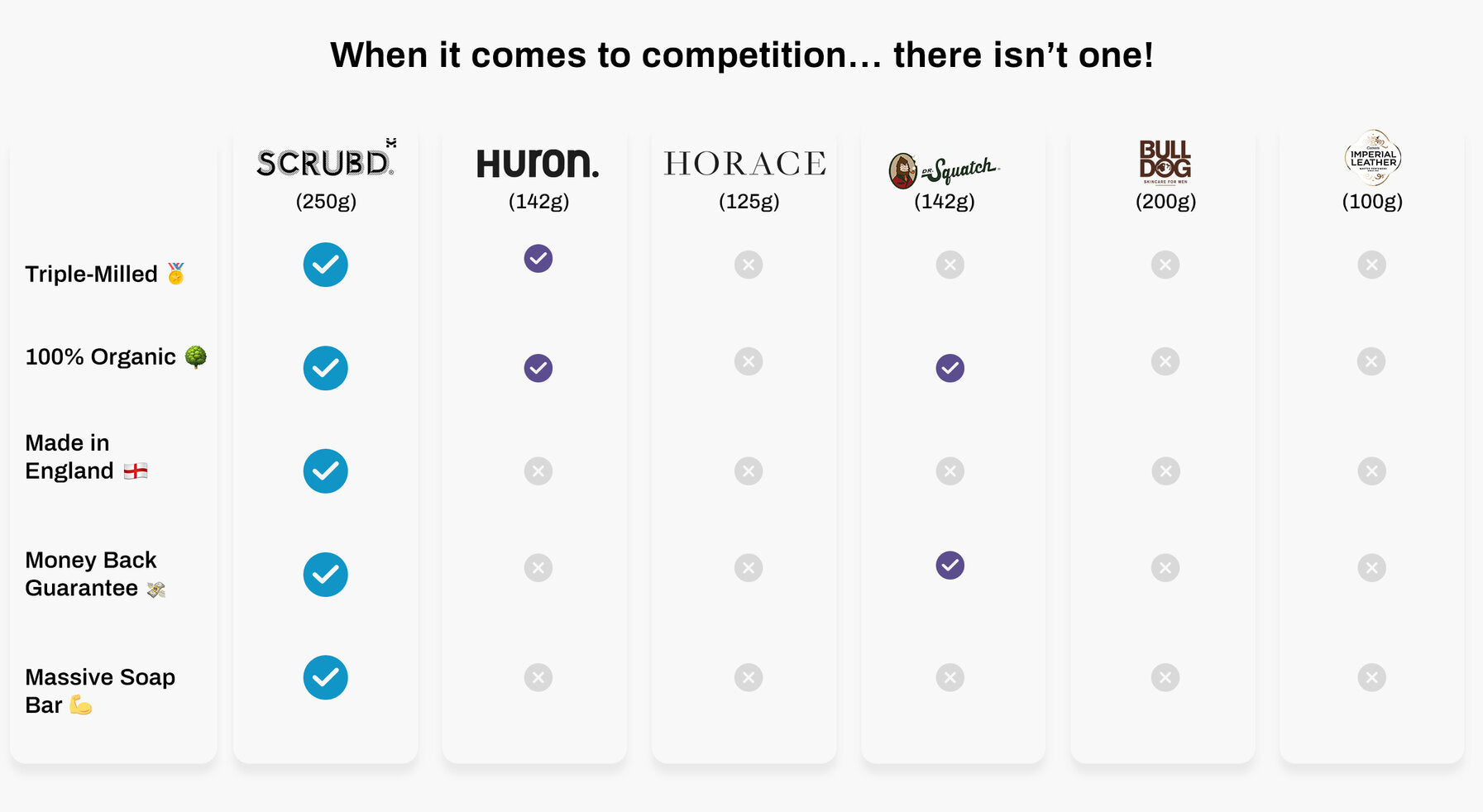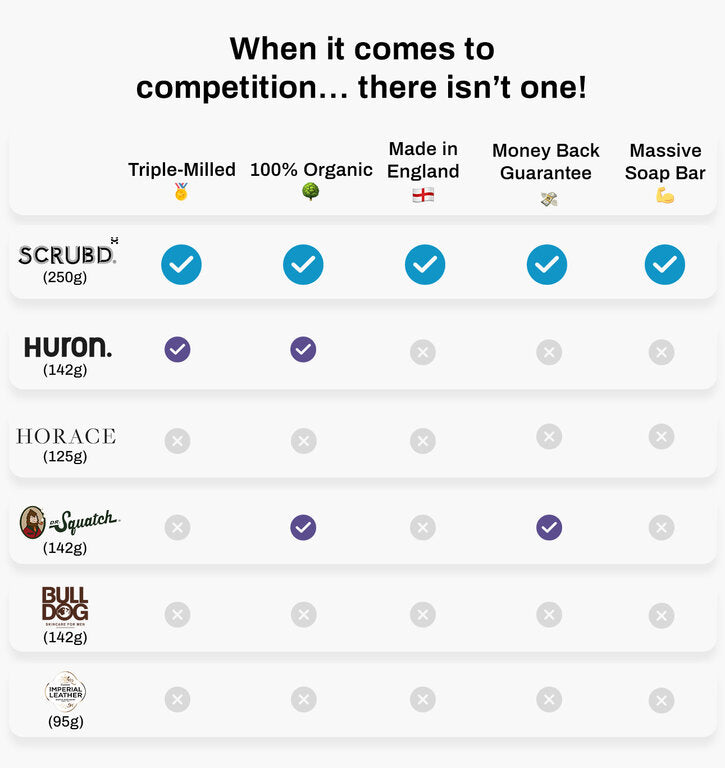 Got questions? We got answers!
How big are the bars of soap?

They're 110g, so while they may be mini by name - don't let their size fool you! These bars are big on superior cleansing power.
How long will they last?

Sometimes less IS more! Each bar lasts between 3-4 weeks, so you get up to 16 weeks of fresh feeling skin from one pack!
What are the ingredients?

We believe in living green and going natural with our soaps. You deserve nothing less than pure goodness; we only use 100% sustainable, organic ingredients sourced worldwide and made here in the UK so we can keep both you and the planet clean!
What is triple-milled soap?

Triple-milled is a type of soap passed through three sets of rollers (milled), resulting in a longer-lasting bar that produces superior lather and won't disintegrate quickly like other soaps.
Made in England

With ingredients sourced worldwide, the best of both worlds.

Natural Effective Skincare

No nasty chemicals – just 100% naturally effective skincare products.

Vegan & Eco-friendly

We believe in being kind to your skin, animals and the planet.